We, Chiba Shoyu, make food.
Therefore, even if it takes time and effort and the process becomes complicated, we will respond to the trust of our customers.
Even if it is a tedious task, many employees do their best to seriously protect the safety and security of our customers.
Safety Policy
Our primary responsibility is to always provide safe and secure products to perfection.
Based on this idea, we will comply with and implement the following as our food safety policy.
We will make all employees aware of the food safety policy and always raise awareness of food safety.
We always talk with our customers and business partners, share food safety information, and manufacture safe and secure products.
We will build, maintain, and continuously improve the internal system based on "FSSC22000".
We will comply with domestic and overseas food safety laws and regulations. We also require our business partners to comply with laws and regulations.
Each department sets determinable food safety goals, focuses on risks and opportunities, addresses important issues, and achieves them.
FSSC22000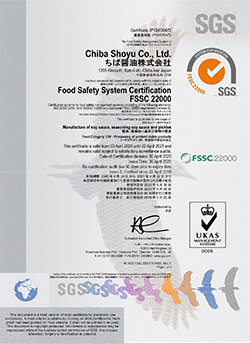 FSSC22000 is an abbreviation for Food Safety System Certification 22000, which is an international standard of food safety management system for food manufacturers, supplementing ISO22000 with additional requirements.
This standard has been approved as a benchmark standard by GFSI (a non-profit organization established in 2000 by the world's food retailers, manufacturers, and food service companies with the vision of "safe food for all consumers").
The scope of certification at our company applies to all departments, operations and processes involved in all business activities, from procurement of raw materials and materials to manufacturing/processing, packaging and storage.
We have organized a food safety team with members covering all departments.
Team members meet every month to exchange opinions on business problems, solutions to them, and activities of each department, including activity goals, and continue activities to maintain and improve the FSSC 22000 management system.
Halal certification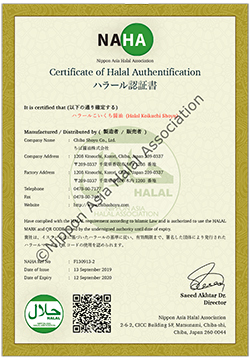 Halal means legal in Islamic law, and refers primarily to food that is eaten under Islamic law.
On the other hand, illegal or inedible food is called "Haram".
Islamic law prohibits eating some foods such as pork, but other foods also require certain standards regarding processing and cooking methods.
Foods based on this standard are said to be "Halal".
Chiba Shoyu has obtained Halal certification in the production of Japanese soy sauce.
Organic JAS certification
JAS is a certification granted by the Ministry of Agriculture, Forestry and Fisheries to certain food and drink products.
In order to obtain organic certification, it is necessary to have a specialized manager to secure the manufacturing process separately from regular products and to clarify the manufacturing history.
Therefore, it will take time and effort, and the operation and management will be strict.
In order to call it organic soy sauce according to the JAS standard (Japan Agricultural Standard), we must comply with strict standards and manufacture products.
We are audited and certified by a third-party organization every year.
HACCP (Soup manufacturing department)
HACCP is an aeronym abbreviation for "Hazard Analysis Critical Control Point".
It is a quality control technique envisioned in the United States to ensure food safety.
Identify important control points in the manufacturing process for the safe production of food.
It is based on the manufacturing standard of space foods, which is a concept that makes it easy for people involved in manufacturing to understand and manufactures reliably.
Manufacturing and management based on HACCP standards enhances and unifies the awareness of manufacturers.
As a result, we will be able to remove foreign substances and microorganisms and deliver safer products to everyone.